It ain't easy growing herbs or veggies in the clay-filled soils here in Houston. It's very much lacking in the minerals and nutrients that your greens need for growing. That being the case, the simple solution is a raised garden bed. It relieves your local soil from the burden of trying to grow what it cannot grow. The bed itself is four walls that sit atop the ground. You then fill that frame with good soil and sow your seeds. (tag: raised garden bed houston)
Do You Need a Raised Garden Bed in Houston?
This post includes most of what you'll need to know to choose a raised garden bed that's right for you. Down below, you'll find a couple of our standard 4 x 8′ bed offerings. Just add them to your cart and check out. We also offer delivery to your location and installation options. In the contact form below, you can fill out the custom dimensions you need for your raised garden bed. Once we get that info, we'll promptly send you a quote. For more immediate communication, reach us at (346) 202-5001.
We noticed a sharp spike in requests for raised garden beds when the quarantine period began in the Spring of 2020. We could hardly keep up with the demand. Some of this demand came from experienced gardeners who clearly knew what they wanted. But the overwhelming majority of the new business came from folks who were obvious beginners. In many cases, they posed questions to us about what to grow and what they needed, etc. Of course, our expertise is woodworking, not gardening.
Nonetheless, after building and installing dozens of these raised garden beds, we ended up with a robust knowledge of what these growers really needed. So I figured I would take the time to write out a post that would steer gardeners in the right direction. There are several factors to consider in regard to size, material, material thickness and design.
What's the Best Wood for a Raised Garden Bed?
I'm posing this question with the assumption that you'd like to use wood for your bed. Some people are making raised beds out of concrete and other long-lasting materials. We've already done a few experiments with other materials so we can offer those products in the future. But for now, let's consider four wood options for your bed.
Untreated Pine
Untreated pinewood is relatively inexpensive, but it's definitely not a long-term option for your garden. If you consider that the wood of your bed will be constantly exposed to moisture and changing temperatures, untreated pine simply won't hold up for very long…perhaps a year or two.
However, perhaps a year or two is all you need. If you're a renter, for example, there's no point in spending a lot of money on high-quality wood if you don't plan to live there for long. And even if you do plan to stay in one place for many years, don't rule out the inexpensive option of untreated pine. If one of your boards rots to the point where soil is flowing out of it, simply go and buy another board to replace it.
If you're holding your walls together with retaining wall blocks (pictured below), replacing a board is super easy. Just cut the replacement board to length and put it in place. No drilling or screwing required.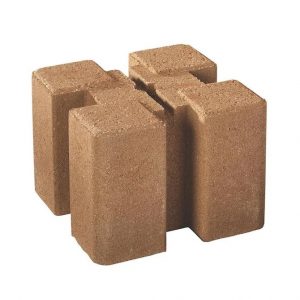 The obvious drawback of these blocks is that they're a bit of an eyesore. And considering that they protrude from the corners of your bed, they can often get in your way. And just imagine how easy it is to trip over one of these things at night.
Pressure-Treated Pine
Pressure-treated wood specifically solves the rotting problem. It's designed to be outside and withstand moisture and severe weather. For this reason, it's more expensive than untreated pine. As of this writing, an untreated 2x4x8 is $5.77 while a treated board with the same dimensions is $6.88.
Treated lumber often lasts 10 years or even longer, so it definitely holds up and provides good value. The only real drawback of pressure treated wood is the potential for its chemicals to leach into the roots of whatever you're growing. If you're growing food in your beds, that's a valid concern. I don't pretend to know whether or not there's any real danger in exposing your roots to treated wood. If treated wood were the only affordable option, I would probably be willing to take the risk. My wife, on the other hand – who insists on organic everything – would not.
Cedar
In this post, I'm not including woods that you won't find at your average home center. Black locust lumber, for example, is extremely resistant to rot. But good luck finding it. And if you find it, good luck affording it.
On the other hand, cedar is an affordable wood that you *will* find at most home centers. And it is also highly resistant to rot, mold and moisture.
Another bonus of using cedar is that many of the gardener's enemies don't like it. Fleas, moths, cockroaches, venomous snakes, mice, rats and mosquitoes all tend to stay away from cedar. The phenols and acids of cedar which give it an earthy scent are actually toxic to these critters. Even spiders tend to avoid cedar…not because of its toxicity, but because their prey (insects) tend not to be found near cedar.
A 2x4x8 cedar board is going for just under $10 these days. So you can imagine that using 8 to 12 of these boards on one bed can quickly become cost-prohibitive. As for longevity, you can expect to get 10 to 15 years of solid life out of a cedar garden bed without using any oils or sealers to protect it. (tag: raised garden bed houston)
Douglas Fir
Most of the raised garden beds we've built and sold this year were made of Douglas fir. Like cedar, it is also a rot-resisting wood. You should expect between 5 to 7 years of life from fir boards. The price of a Douglas fir 2×4 spiked in the fall of 2020 from $3.55 to $5.98.
I was wondering why the price of Douglas fir nearly doubled over the weekend. Now I know why…look at this spike in lumber pricing. Due to the fires out west, I would imagine. pic.twitter.com/fIvb02YSRV

— Joseph's Woodwork & Crafts Co. (@JosephsWoodwork) September 13, 2020
At $3.55, Douglas fir was far and away the best option for raised garden beds…especially for those who needed several of them. But even at $5.98, it's still a very good option.
How Thick Do the Walls of a Raised Garden Bed Need to Be?
All of the wood I quoted above are 2x boards. Their actual thickness will be around 1.5 inches. That will provide plenty of strength to endure the constant outward pressure of the soil it contains. Deck boards are typically 1 inch thick. They can also get the job done, but will require extra reinforcement to prevent the long walls from bowing outward.
Another option to consider is cedar fence pickets. The two obvious advantages of fence pickets are their low cost and the benefits of using cedar. The only real drawback of fence pickets is that they're only 5/8″ thick. That's barely more than half an inch. Again, that doesn't mean you can't use fence pickets for the walls of your raised garden bed. But you will have to significantly reinforce them to prevent bowing…especially if you build them up high.
We use cedar fence pickets for our elevated garden beds. We build them with such thorough reinforcement that the boards have nowhere to move.
How High?
The required soil depth for the herbs and veggies you wish to grow is easily searchable on Google. That's not my area of expertise. But from what I hear, there aren't many greens or veggies that require more than 12 to 16 inches of soil. I follow a Facebook group that exclusively focuses on the Square Foot Gardening techniques of Mel Bartholomew…and I've seen plenty of pics in that group where they're successfully growing greens in beds that are only 4 to 6 inches high.
Keep in mind that for every inch of height you have on your garden bed walls, that's another full inch of soil you're going to need across the span of your bed…not to mention the additional cost of the wood. That adds up quickly. And if the greens you're growing don't really need that depth, you're wasting soil and money. So take the time and do your research. Figure out which greens grow best alongside your other greens. Ask questions, try a few experiments and document your results. (tag: raised garden bed houston)